Isaak shares the intimate details behind the "Wicked Game" music video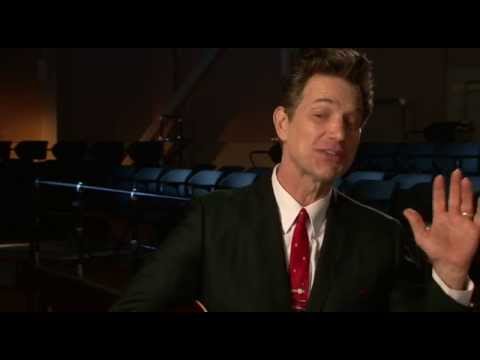 Chris Isaak Interview Wicked Game
An interview with Chris Isaak
Chris Isaak Interview Wicked Game
An interview with Chris Isaak
In advance of opening the latest Rock and Roll Hall of Fame exhibit Herb Ritts: The Rock Portraits on March, 13, 2015, the Rock Hall caught up with Chris Isaak for a look back at 1989's "Wicked Game" music video directed by Herb Ritts and featuring supermodel Helena Christensen.
What was the song "Wicked Game" about? Did the on-camera chemistry with supermodel Helena Christensen happen off-camera, too? What was photographer/director Herb Ritts' vision for the video? Chris Isaak answers all those questions and more.
Rock Hall: What was the song "Wicked Game" about?
Chris Isaak: It's about four in the morning, and somebody calling and saying I'm coming over to your house and I thought right after I said okay, I thought I should have never allowed this person to come over to my house.  I know what's going to happen.

And I wrote the song between the time I got off the phone and the person came over to visit. It was just about what happens when you have a strong attraction to people that aren't necessarily good for you.

I think it hit a nerve because I think a lot of us have a strong attraction to people that aren't necessarily good for us.
RH: What was the inpsiration for the "Wicked Game" video?
CI: I was always very interested in the video process. Actually, Warner Brothers had wanted to hire me to direct videos for other artists because I always came in with a lot of ideas. And I came into this one, and they said okay, well, what's our idea, our concept on it?

The concept on this video is very simple: nice lighting, and you're singing this song to a girl. It's not like there's a lot of tricks and storyline in this. But I felt really comfortable that Herb [Ritts] could take something simple like that and make it beautiful.
"I just don't think it's going to be sexy enough for them to play this."
Chris Isaak
RH: The on-camera chemistry with supermodel Helena Christensen seemed very convincing to people who saw the "Wicked Game" video...
CI: Helena is beautiful… she was, of course, beautiful when we saw her. But I thought she was really fantastic. She's a great actress. She pretended to like me. I mean, we didn't know each other, and I always feel like I have to explain to people: it's a video, give the girl credit, Helena is a good actress. She wasn't having sex with me, she wasn't my girlfriend, but she put that energy out so much so that people always come up to me, to this day, guys will come up to me and they go: "Hey! You're the guy… who's the girl in the video?" – I know where they're going before they start  – "Helena Christensen. I was in it, too, but that's who you want to know." But people thought that we were really lovers.

She was a very good actress, a very beautiful women. When you think of like a beautiful supermodel, you think of people that are, you know, "I need another hour for my hair!" or something like that. Never. I never remember her holding up anything for any reason.
RH: Did Ritts' preferred setting – beach with ocean backdrop – present any challenges?

CI: It looks romantic in the video, but in real life, we're on a beach… if you look at [Christensen's] body, it has goosebumps on it. They were throwing buckets of cold sea water on us to keep us wet. And there was a little bit of wind, and she was freezing, I mean she was just shivering. When I'm holding her close to me, a lot of times I was just holding her feeling like, "you poor thing, hold on to me – you'd be warm at least."
RH: What was your reaction when you first saw the finished video?
CI: We shot the whole video and afterwards, I remember they showed me the rushes and stuff, and they said we want your comments on the editing and everything. And I had the stupidest comment. People laugh at it, but it's actually my comment. I said, "I love it, I don't think they're going to play it." and [Ritts] said, "why?" I said, "I just don't think it's going to be sexy enough for them to play this."
Now people have said it's a sexy video later, but you got to remember: I'm in it. So every time I was in it, and they were showing me, I was thinking "that's just boring and bad." I said, "can't you cut more of the girl in it, and get rid of me more?" And [Ritts] goes, "You have to sing the song!" … Luckily, it was Herb Ritts that I listened to instead of my own fears, and it came out good.

RH: What was it about Herb Ritts style that really made him unique, both as a photographer and director?
CI: [Ritts] was really, really good with lighting. I mean, you can have a photographer who has all the good ideas, but if they don't get the right lighting and the right angles, you're not going to look good. Herb Ritts, when he showed you a shot that he took, you went "ooooh" … he just knew where to turn people – the right angle, the right time, the right light. He was very good.