Nov 05 2019
Inductee Insights
The Cure
The Cure's sound has been called post-punk, gothic rock, new wave and alternative – but as frontman Robert Smith says, it's all just "Cure music." Standing for a group of teenage musical schoolmates, a legendary act commanding 10 million television viewers during an MTV performance and everything in between, The Cure's story has many chapters. Watch the full PNC Bank episode.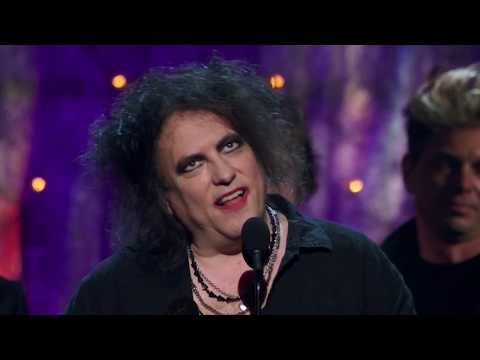 Inductee Insights The Cure
Inductee Insights: The Cure
Inductee Insights The Cure
Inductee Insights: The Cure
After some youthful first efforts and line ups, the Cure quickly evolved into a trio; frontman Robert Smith, drummer Lol Tolhurst and bassist Michael Dempsey under the name The Cure. Their 1979 debut, Three Imaginary Boys, was pop with punk's drive. The album's single, "Boys Don't Cry" would go on to become one of the band's biggest and most enduring hits.
The Cure later began exploring dark imagery, settling into Existentialist philosophy, depressive themes and a lot of reverb. The trio of records released between 1980 and 1982 – Seventeen Seconds, Faith and Pornography – saw Smith develop lyrical prowess and a haunting sound as a singer and guitarist. The band followed suit, contributing to atmospheric, synthesizer-driven tracks like "A Forest" and bass-heavy tracks like "Play for Today" with the addition of bassist Simon Gallup. Their stage look added to the aesthetic: teased black hair and messy makeup.
"A custom world for anyone who has ever dreamed of escape."
Trent Reznor
Ready to move on from the stress of what Smith deemed the "sordid side of life," the Cure opened a new chapter with a string of singles including "Let's Go to Bed," "The Walk," and "The Lovecats." With the return of guitarist Porl Thompson and the addition of drummer Boris Williams, the Cure released The Head on The Door in 1985. "In Between Days" and "Close to Me" became the model for Smith's signature union of bright pop songs with deeply profound lyrics. The group carried their uniquely emotive sound into their next album, Kiss Me Kiss Me Kiss Me and its hit single, "Just Like Heaven."
After a chapter stacked with colorful pop songs, the band returned to their roots with Disintegration, their most atmospheric, intense album yet. The expressive tracks "Lovesong" and "Pictures of You" represented a culmination of the Cure's strongest imagery and most haunting arrangements. The addition of Roger O'Donnell on keys added to the album's rich ambient texture. The band was in heavy rotation on MTV, which showcased their stunning visual collaborations with director Tim Pope. 
Despite a rapidly growing audience, the Cure never lost sight of pursuing substance. The whimsically immersive album Wish revisited the band's beloved pop sound with a renewed maturity. The album's mega-hit "Friday I'm In Love" has gone on to become a cultural touchstone.  
Never defined by a single sound, lineup or album, The Cure have remained uniquely and unapologetically genuine throughout their dynamic career. Their authenticity has attracted a loyal fanbase spanning decades and stretching worldwide. Led by frontman Robert Smith, the current lineup has been together since 2012: drummer Jason Cooper, guitarist Reeves Gabrels, bassist Simon Gallup and keyboard player Roger O'Donnell. After headlining over a dozen festivals this summer and announcing their first studio album in over a decade, it's clear the Cure's current chapter is one of its best yet.